Design of
Tiffany-Studios New York
Tiffany lamp shades
# 1511 TURTLEBACK BAND  
Three Light Chandelier
This chandelier was desgned for use over a billiard table.
Central Shade:
Diameter 211/2″ (54.6cm)
Smaller shades:
Diameter 12″ (30.5cm)
Bronze hanging hardware
Total Length 57″ (1.45 m)
Total Width 54″ (1,37 m)
The fixture will be adjusted to your specification of length by using heavy bronze links of chain.
Minimum of  total length is 41 1/2″ (105cm)
The  lamp shades are available as single hanging lamp also and as atable lamp in combination with a bronze lamp base.
A two light combination of  2X 19″ shades is available also.
There is one triple light Pool table lamp known made by Tiffany Studios NY, which has this geometric design with Turtleback tile bands.
Please see:  Page 42 "Fin de Siecle Masterpieces" by  Alastair Duncan.
ISBN 0-89659-971-X
This Lamp is electrificated according to UK safety standards. It has B22 Bayonet Lamp sockets.
European- and USA standards of electrification are available at no extra cost.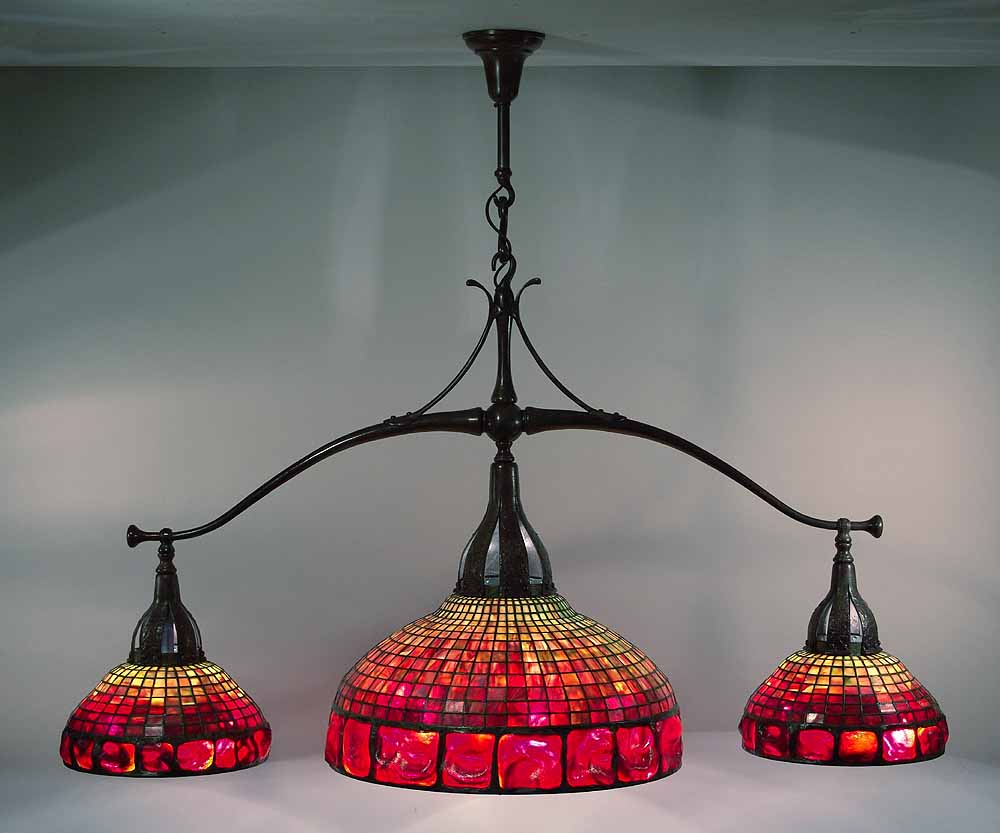 Please E-mail for your comments and ordering information.