Design of
Tiffany-Studios New York
Tiffany lamp shade
leaded glass
NAUTILUS # 401
Bronze lamp base
NAUTILUS Leaf design # 401
Total Height: 13 1/2″
(34,3 cm)
The Tiffany lamp as it is known today, with its heavy bronze base and intricately worked glass shade did not exist before 1899. In that year at least three of the still popular Tiffany lamp types were introduced.
One of them was the Nautilus, which was included in the exhibition of Art Nouveau in London in 1899. It is one of the earliest leaded glass lamps Tiffany ever made, for which he filled patent claim No.30,665, on May 2, 1899.
It appeared in several forms, one had a genuine Nautilus-shell shade, one a leaded glass shade and one the "Mermaid" bronze base designed by the sculptor Louis A. Gudebrod.
The Nautilus lamp was, in addition to being one of his earliest leaded glass lamps, also an early example of his metalwork.
The design was adapted to the electrical light bulb. Its adjustable shade and the simple down-to-earth look af the lamp are typical of Mr. Tiffany's personal work.
"Louis C. Tiffany´s Glass- Bronzes- Lamps" by Robert Koch
"The Lost Treasures of Louis Comfort Tiffany" by Hough F. McKean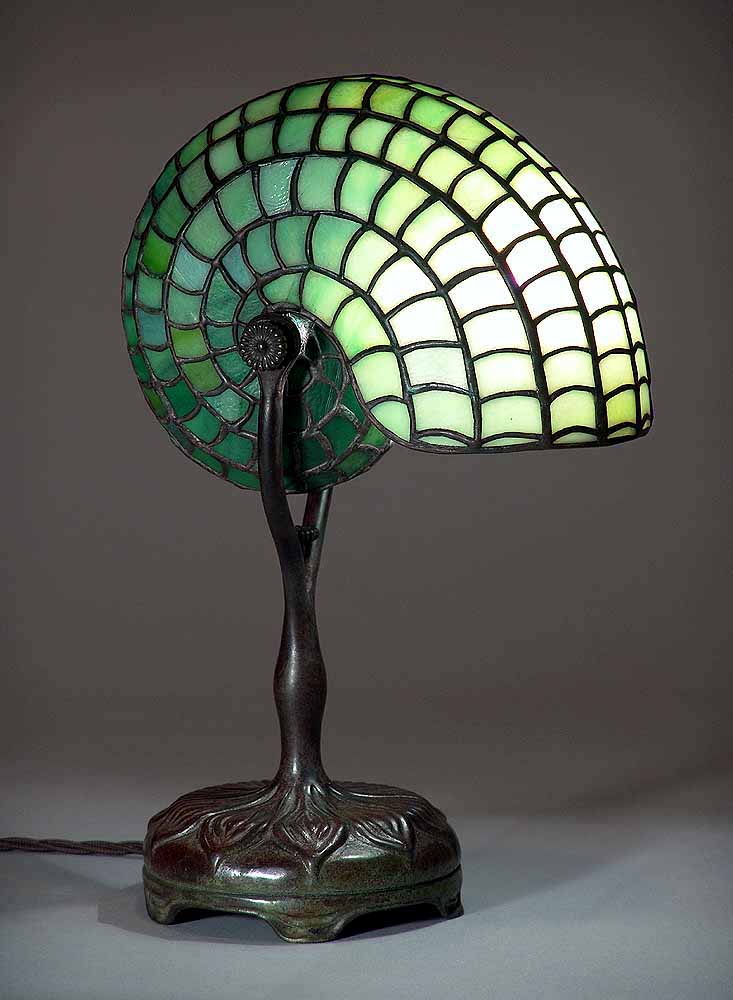 Please E-mail for your comments and ordering information.